Do you want to know what are the best modeling amps for Guitar in 2022?
In this post, we'll discuss some of the best modeling guitar amps in 2022 and see how they can help you practice better guitar and bass at home.
Similarly, if you are a complete beginner in guitar playing and looking to find the perfect amplifier for your guitar to explore tones and bass then we have the best list of modeling amplifiers available.
But when choosing the best modeling amps you will need to focus on multiple factors that we will be discussed below with each modeling amp.
Table of Content
9 Best Modeling Amps for Guitar
If you are looking for some of the best modeling amps for guitars in 2022, then your search ends here.
Fender Mustang LT-25 encompasses the best sound experience for guitars by mixing many features that were not available previously in amplifiers. 
It comes with a super-simple user interface with over 30 presets covering a wide range of music. It also offers numerous 'greatest hits' of electric guitar tones and is ideal for beginners and students alike.
Fender Mustang comes with an adaptable signal chain, high-quality inbuilt amp and effects models, and creates superb tones while practicing amp in your home or office.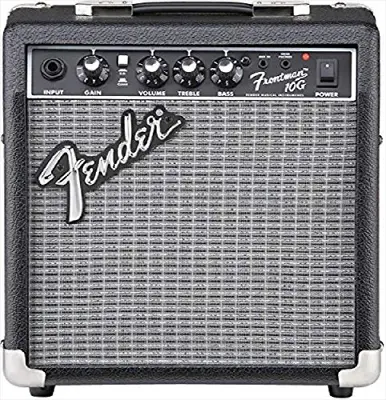 Fender Frontman 10G modeling amp for guitars. The Frontman 10G provides impressive tone with intuitive amplifier settings for the beginner electric guitarist that are looking for a simple, straightforward, and easy-to-use amplifier for their projects. 
The Frontman 10G has a simple front-panel clean/overdrive switch for thick overdriven distortion at the touch of a button.
Moreover, the Treble and Bass settings allow users to easily modify guitar tone's for high or low frequencies simultaneously. 
Bonus Read: Bass vs Guitar 2022: Compare Size, Difficulty, Difference, and More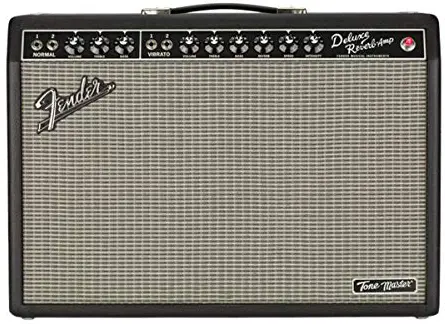 Fender Tone Master offers a tubeless deluxe tone, volume, and high-performance 100-watt digital power amp that achieves the headroom and dynamic range of a real vintage deluxe tube amp.
Fender Tone Master offers 22-watt power output and is properly reproduced using massive digital processing. It is manufactured using a neodymium speaker Jensen n-12k cabinet made of resonant pine.
With Fender Tone, Guitarists can have a playing experience that they never had before. Tone Master is also great for home use – for anyone that is looking to practice with an amplifier for tweaking their guitar performance.
Want to know Guitar Tricks? An Exclusive Guitar Tricks Review in 2022
We were just discussing Tone Master. MasterTwin offers a similar amplifier experience for guitarists.
Fender Tone MasterTwin offers 22-watt power output using digital circuitry for its reverb amplifier. 
It properly reproduces massive digital processing and ensures that users always get high tones of sound for their projects. It achieves all this with headroom and dynamic range of real vintage Deluxe tube amp. MasterTwin uses a 100-Watt digital power amp with the help of Neodymium speaker Jensen n-12k.
MasterTwin is a great amplifier for hobbyist guitarists and is perfect for anyone that would like to tweak their guitar-produced music to the next level.
Fender Rumble Studio 40 is a bass amplifier that can be connected with WiFi. Guitarists can use the Fender artist-created presets, upload their own presets, and do a lot more. 
In summary, Fender has its own community behind the Rumble Studio 40 amplifier. It also comes with a Tone tweaking app on iOS or Android smartphones.
Rumble Studio 40 streams music wirelessly from any Bluetooth device within a connected distance in the room or a hall. Rumble Studio 40 also offers genre-specific presets created by professional artists.
Fender's Rumble Studio 40 has been used by inspiring musicians across a wide range of genres. It can play metal, pop, jazz, and many other music genres in the best quality. 
Pyle-Pro PVAMP60 comes with a powerful 60-watt amplifier that will make your music sound incredible. The PVAMP160 features an 8-inch speaker, high and low-level inputs, clean and overdrive channels, and a 3-band EQ for treble, mid-range, and bass control. 
You can easily adjust the gain on the overdrive and get classic blown-out music as a result. Pyle Pro also uses the built-in digital delay to add a delay effect that ensures that the rhythm doesn't break.
With Pyle Pro, you can easily practice in solitude and listen to your sound via tha amplifier or the app provided with the PVAMP60.
The app converts the sound into digital music that can be recorded or heard using your headphones.
5 Best Gibson Les Paul Guitar (Affordable)
RockJam Bluetooth Amp is a 15 watt tiny and lightweight amplifier that has a plethora of features. It is an excellent choice for practice, playing, and everyday use for both hobbyists and professionals alike.
With RockJam Bluetooth Amp, you'll have enough volume to rehearse and hold small concerts. It also comes with inbuilt speakers that use 15 watts of power (RMS) and ensure that you always have the right music amplifier by your side.
With RockJam Bluetooth, you have both the microphone and guitar inputs fine-tuned to fit your specific performance requirements.
RockJam amplifiers come with an integrated battery that can last up to 4 hours on a single charge. You can also charge with a micro USB with your laptop.
An Exclusive Review on Taylor GS Mini Guitar 2022
Frequently Ask Questions
Q: Do modeling amps sound good?
A: Yes! Modeling amplifiers sound great. They are perfect for anyone that is looking for a really wide range of tones available in one amp. With a modeling amp, you can have all these tones available in a single amplifier.
Modeling amps also offer a lot of opportunities for beginners and they are a practically healthy way to learn about the different kinds of amps that are out there. With modeling amplifiers, you can produce all sorts of tones a particular amp will give you.
Q: Are tube amps worth the money?
A: Yes tube amps are worth the money. They are easy to maintain and don't cost a lot. In simple terms, tube amps do not require a lot of tweaking and regular maintenance because they don't have a lot of complex parts.
They are made of transistors, vacuum tubes, and almost everything is mechanical. Current tube amps also come with digital features but even then they are low maintenance machines.
As long as you can take care of the gears, having a tube amp is simple and definitely worth the use.
What Is the Best Guitar Modeling Amp?
Fender Mustang (any variant) and RockJam Bluetooth are two of the best modeling amps available in the market for guitar tuning and jamming sessions. 
If you are a total beginner, our recommendation is to go with the RockJam amplifier because it offers a lot more features, is easy to grasp, and comes with a mobile app that takes care of most of the basic tweaking requirements. 
For professionals, our recommendation has always been Fender Mustang because of the professional sounds it can produce. It is also a really low-maintenance machine that you can use for practice.
You can also check out our guide on Best Chair for Playing Guitar in 2022.
Looking for a microphone for recording piano? Check out the list of the 7 Best Microphone for Recording Piano (In the World).