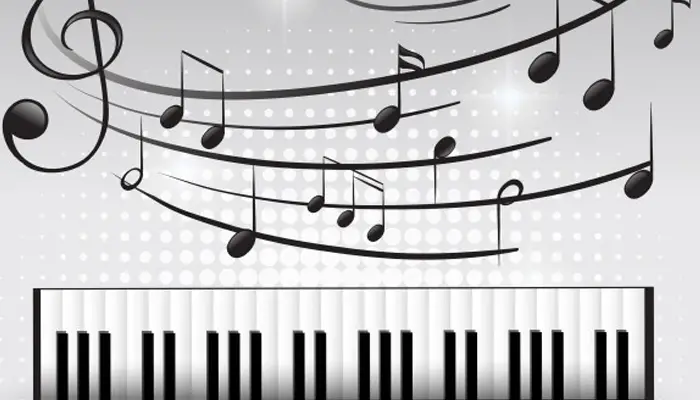 Do you wonder what the best piano notes with letters that may enable you to practice as much as you can as a beginner are?
It may also help you have a good command of all the keys, thus making you efficient enough to practice on your own without any aid.
In this article we'll discuss all the best piano notes for beginners with letters to help you easily play all your favorite songs without any trouble.
What Are the Letters for Piano Notes?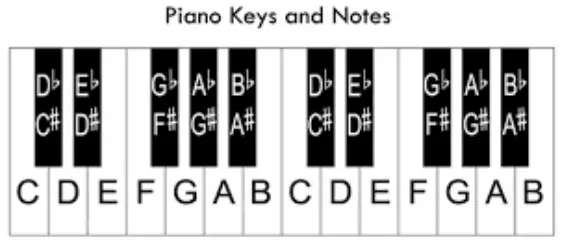 The piano is the most interesting musical instrument that you may ever come across. It has specialized keys with different octaves producing a specific sound.
In addition, all these keys have a particular letter as a label, enabling the production of music and rhythm depending upon the sequence at which it's played. These sequenced letters include C, D, E, F, G, A, B, which repeat at every interval.
Recognizing each letter is pretty simple. For example, the one to the left of the three black keys is F, while the one to the left is C.
Locating the rest of them is pretty simple as it goes in the sequence C, D, E, F, G, A, and B. Note, that the white keys are the natural ones while the blacks are sharp or flat.
Therefore, learning notes using these letters may help you play all your favorite songs likedespacito, hallelujah,titanic,Havana,hello,faded, and lots more without any hurdle.
Where Do I Begin Best Piano Notes with Letters?
Reading and learning piano notes may seem a bit tough, but they are super easy. First, all you need is some basic understanding of the notes, symbols, and rhythm that may enable you to pick and learn in the simplest way possible.
Secondly, you need to practice to get used to it and be more proficient in playing tunes and melodies.
There are lots ofpiano notes with letters and numbersavailable for your better understanding and learning. Also, these are printable and may really assist you in practice, especially if you're a beginner.
In order to begin piano notes, the first step is to learn how to read them. To do so, you need to know what each symbol means and indicate.
These symbols specify a specific pitch, rhythm, and tune that may coordinate with the melody of the song you're playing. These symbols include treble staff, bass staff, sharp, and flats.
The treble staff is the symbol that directs you to play specific keys with your right hand, while the bass staff symbolizes the keys to be played with your left hand.
Moreover, the sharp as the name suggests, means the tunes are higher than the regular ones while the flats are lower than the standard tunes.
Further, you need to know what lines and spaces mean on the keyboard. This will help in reading notes and recognizing them on the staff. Next, finger numbers play a vital role in practicing the right tune of the song.
Each finger of both your hands indicates a specific number that needs to be pressed on the particular key.
So, getpiano notes with letters printableto learn them in no time. Also, try the most accessible tunes like let it go, happy birthday, hello, lost boy, and Christmas song for effective practice in just a blink of an eye.
How do I teach myself piano notes?
At times, it's tough to get daily lessons for playing piano from an instructor due to a challenging routine. But you don't need to worry at all as you may now teach yourself as well.
There ispiano sheet music with letters instead of notesavailable that may introduce yourself in the most efficient way possible.
All you need to do is follow this guide for the perfect learning in no time.
The first step is to get the most suitable yet good quality keyboard on which you can practice well.
Next, spend some time with your keyboard to explore each key and its function to get a clear idea of how it works.
Next, get comfortable with your keyboard. Learn better positioning your hands on your keyboard to ensure you can do well without any positioning trouble.
Further, learn the notes using thepiano notes for beginners with letters.Each note is specified with a letter with individual pitch, rhythm, and sound.
Next, learn the symbols such as treble staff and bass staff, which indicates that you need to use your right or left hand, respectively, for the notes.
Then, learn what sharp and flat notes are and how they differ from the standard keys.
Next, the most crucial step is to practice. As you know, practice makes one perfect, so practice as much as you can to be an excellent musician.
To practice efficiently, set a timer and work on your fingering techniques accordingly. This will enable you to know how much you have achieved.
Remember that working in groups will boost your confidence, so try to do practice sessions with your fellow piano players once in a while.
Conclusion – Best Piano Notes With Letters
We hope that this article will help you understand what the best piano notes with letters are. Also, it will help you to get an idea of how to start piano notes with letters and teach yourself in the simplest way possible.
So, what are you waiting for? Follow this exciting and super-easy guide to learn keyboard playing in no time.
You can also check out our guide on Best Digital Piano Under 300 Dollars and Best Cheap Keyboard Piano Under 100 Dollar.