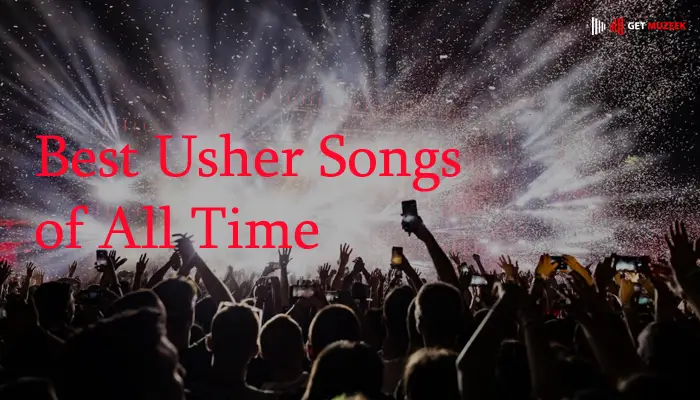 Usher, the multi-talented American artist, has left an indelible mark on the music industry with his sensational tracks. In this article, we delve into the realm of his musical brilliance and present to you the 10 Best Usher Songs of All Time. These hits have not only dominated the charts but also won over fans' hearts, making them timeless classics that continue to resonate.
10 Best Usher Songs of All Time
"Yeah!"
Kicking off our list is the chart-topping anthem, "Yeah!" This track's infectious beats and catchy lyrics are impossible to resist. With Lil Jon and Ludacris adding their unique touch, "Yeah!" quickly became a party favorite. The fusion of R&B and hip-hop elements creates an explosive blend that still gets everyone on their feet.
"My Way"
Usher's journey to stardom escalated with "My Way." The song's confident lyrics and smooth melodies showcase his signature style. Usher's vocal prowess shines through, giving us a taste of his artistic evolution. "My Way" is not just a song; it's a statement of Usher's distinctive musical identity.
"Love In This Club"
"Love In This Club" is a testament to Usher's ability to craft contemporary hits. Collaborating with Young Jeezy, Usher paints a vivid picture of love and attraction on the dancefloor. The song's pulsating rhythm and magnetic hooks earned it a permanent spot on playlists worldwide.
"Burn"
Usher's emotional depth is on full display in "Burn." This heartfelt ballad delves into the pain of lost love. Usher's soulful voice effortlessly conveys heartbreak and resilience. With relatable lyrics and a captivating melody, "Burn" stands as a timeless ballad cherished by listeners.
"You Got It Bad"
Navigating themes of love and longing, "You Got It Bad" resonates with its heartfelt lyrics and Usher's emotive delivery. The song's vulnerability and relatability strike a chord with anyone who's experienced the complexities of love. Usher's ability to evoke emotions through his music shines brightly in this track.
"I Don't Mind"
"I Don't Mind" showcases Usher's versatility, as he seamlessly shifts from romantic ballads to more contemporary tracks. Teaming up with Juicy J, Usher explores the dynamics of a modern relationship. The song's modern sound and candid lyrics highlight Usher's willingness to adapt to changing musical landscapes.
"U Remind Me"
"U Remind Me" boasts Usher's introspective side, as he reflects on past relationships. The song's introspective lyrics combined with a captivating melody create a compelling narrative. Usher's ability to infuse emotion into his music ensures that "U Remind Me" remains a favorite among his fans.
"Nice & Slow"
"Nice & Slow" is a classic slow jam that showcases Usher's sensuality and charisma. The song's smooth melody and suggestive lyrics create an intimate ambiance. Usher's velvety vocals take center stage, making this track a quintessential R&B masterpiece.
"DJ Got Us Fallin' In Love"
Usher's collaboration with Pitbull resulted in the electrifying track "DJ Got Us Fallin' In Love." The song's high-energy beats and euphoric chorus make it a must-have for any party playlist. Usher's seamless blend of pop and R&B elements demonstrates his musical adaptability.
"My Boo"
Closing our list is the iconic duet "My Boo," featuring Usher and Alicia Keys. Their harmonious vocals and heartfelt lyrics celebrate love and unity. The song's melodic beauty and emotional depth make it a perfect finale for Usher's greatest hits.
FAQs
Are these Usher songs available on streaming platforms?
Yes, all the songs mentioned in this list are available on popular streaming platforms like Spotify, Apple Music, and YouTube.
Has Usher won any awards for these songs?
Absolutely, Usher's remarkable talent has earned him several awards for these songs, including Grammy Awards and Billboard Music Awards.
Are there any upcoming Usher concerts?
To stay updated on Usher's concert schedule, visit his official website or follow his social media accounts.
Can I learn the dance moves from Usher's music videos?
Many of Usher's music videos feature iconic dance routines. You can find tutorials and fan-made videos online to learn the moves yourself.
Are there any unreleased Usher songs?
Usher has a vast catalog of music, including some unreleased tracks. Fans often speculate about potential releases, so keep an eye out for any announcements.
How can I support Usher's music?
You can support Usher by streaming his music on platforms like Spotify, purchasing his albums, and attending his concerts.
Conclusion
Usher's musical legacy is etched in the hearts of fans worldwide. From the energetic beats of "Yeah!" to the soul-stirring melodies of "My Boo," Usher's songs have touched lives and created lasting memories. As you groove to these tracks, you become part of the journey that has made Usher an icon in the music industry.
That's all! You can also check out 20 Best Fleetwood Mac Songs of All Time and 20 Famous Singers from Hawaii.