Are you wondering what is the best Kalimba to buy in 2022 that's authentic and pretty affordable?
It would be very easy to play and would have clear high notes to help you enjoy melodious tunes in no time. Also, it would be based on high-quality material for long-term use.
In this article, we'll discussthe best Kalimba to buy, having good quality and features at the most reasonable price.
Before going further, you need to understand how to choose the best Kalimba.
How Do I Choose the Best Kalimba?
Choosing the best Kalimba you need to look at certain things. They include shape, size, material, types, keys, and price.
Of course, the body and material would enable you to produce the desired sound. But, at the same time, the size and keys will regulate the particular type of music you can generate.
Therefore, always look for these factors and choose the Kalimba that may be best for the tunes you want to play.
Now let's move to the list and see the best Kalimba in the world.
5 Best Kalimba to Buy in 2022
Here's the list of the top Kalimba you may buy in 2022 with the most desirable features enabling you to play harmonious tunes without any hurdle.
Kalimba Thumb Piano 17 Keys is the best gecko Kalimba. It's a handmade instrument, made from high-quality wood and steel to ensure the best quality music. 
Also, it has a unique curved design, and its keynotes have letters on them to help you play well, especially if you're a beginner.
Moreover, Kalimba is pretty simple to play and is suitable for both beginners and advanced players. Moreover, it also offers a two-months warranty for you.
UNOKKI Kalimba Thumb Piano is the best kalimba brand Philippines. It's one of the most accessible musical instruments enabling you to play well just after one try. Moreover, it produces a resonant musical sound suitable for all genres of music.
Further, its body is entire of mahogany wood, having the best quality and fine structure. Its design is unique in its way, ensuring the perfect keys and enabling you to hold it with ease.
Moreover, you may also get a tuning hammer to fix it according to your desired music in no time.
MISIFU Kalimba is one of the best Kalimba to buy in 2022. It has a curve design enabling an entirely comfortable grip in your hand. Moreover, its structure is pretty well-defined made from Mahogany wood, ensuring good quality tunes and music.
In addition, its keynotes are well-built, just the way most musicians look for. The best thing about this Kalimba is that it's water and scratches proof, enabling it to function well for a lifetime.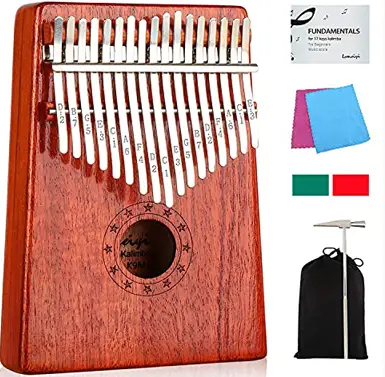 Kalimba Finger Piano is the best mbira finger piano. It has a well-developed structure having high-quality solid wood, ensuring the most desirable tune you can ever produce. 
Besides, its keys are famous for creating melodies of various genres, including folk, pop, rock, African, classical, and more.
In addition, it also offers a 1-year warranty along with six months return opportunity. Therefore, if you observe any error in it, you may get it changed or repaired.
Chrider Kalimba is the best thumb piano. It has 17 keys enabling you to produce the most pleasant sound without spending much time and energy.
Moreover, its body is well-established made from Mahogany wood and steel, providing a tremendous comfortable hold for you. 
This Kalimba set also provides a musical book as well to practice well if you're a beginner.
Frequently Ask Questions
Q: Is Kalimba worth buying?
A: Yes, Kalimba is worth buying a musical instrument. It's pretty affordable and easy to use.
You don't need to invest much money, energy, and time to learn this instrument. Few practice sessions are more than enough to be great at playing it.
Q: Which Kalimba has the best sound?
A: Kalimba thumb piano 17 keys have the best sound. It's a gecko kalimba having the best quality wood and steel material, ensuring the most pleasant sound.
Moreover, its high keynotes are well-built, providing a melodic tune suitable for almost all genres.
What Is the Best Kalimba to Buy in 2022?
UNOKKI Kalimba Thumb Piano is the best Kalimba to buy in 2022. It's the easiest Kalimba you may ever look for, ensuring melodious tunes just after few plays. 
Additionally, it is well-built using high-quality material and is available at a very reasonable price.
We hope this article will help you buy the best Kalimba with the desired quality and features at a very affordable price.
So, what are you looking for? Choose the most suitable Kalimba and buy it for perfect tunes of all genres in no time.
You can also check out our guide on Best Acoustic Piano for Beginners and Best Microphone for Recording Piano.